Farewell To O
October 15 marks a special occasion for many people. For some it's a birthday, others an anniversary, for me it marks my final show with Cirque du Soleil's 'O'.

Fifteen years prior I opened 'O' to great expectations, stress and excitement…. and a very long speech from Steve Wynn! We had our dive list taped to all three Russian Swings and the running order of the show plastered everywhere at the side of stage! It was wonderful chaos.

Now of course, O is a smooth running machine and a beautiful spectacle. I have made many lifelong friends, had a lot of laughs and taken a lot of Advil, while entertaining close to 12.8 Million spectators on stage over the past 15 years. That's a lot of people who have seen me spinning and flipping in costume and make-up!

All those people you see on stage at Cirque are just normal people, who also happen to be extra-ordinary in some special way. Almost exclusively, we have sacrificed friends, family and country to pursue our passion of sport and entertainment. But it's really not these special skills that sets them apart, it's their heart and passion.

My dad woke up at 4.45 am, 5 days a week for 6 years just to take me to diving training. Then he would pick me up at the pool in the afternoon and take me to Trampoline training, returning home at 10 pm. On the weekends I trained all day; I loved it! If I wasn't training it was because I had a competition somewhere. This was my absolute Passion! We are so lucky to make our passion our life's work!

Krista Monson is a previous Artistic Director of 'O'. Over coffee together she shared an important observation: Most people live a life where what they do and who they are, are very different things. As entertainers, who we are and what we do are the same. So our Director, Franco Dragone, was right when he would shout "Show me who you are!"

I love Real Estate; the opportunity my unique perspective allows me to make a positive difference in the lives of my friends. I am so privileged to have lived both my passions for so many years. On October 16th I wake up to a life without Cirque, but a life still filled with my passion for real estate, wonderful friends and treasured memories. It has been my great privilege to share the stage with this talented group of people for the past 15 years.

Thank you my friends…. and Bravo!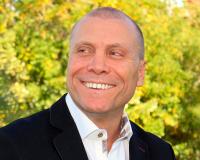 Author:
Steve Bland
Phone:
702-751-7071
Dated:
October 13th 2013
Views:
2,499
About Steve: ...